Never seen before heavy rains in the state of Telangana and especially Hyderabad for the first time in more than 30 years brought the entire city to virtually standstill. Nearly 90% of the Hyderabad City got drowned and submerged and this came as a shock to the citizens who till now have been hailing CM KCR and his son KTR as the effecient administrators are now getting virtually trolled.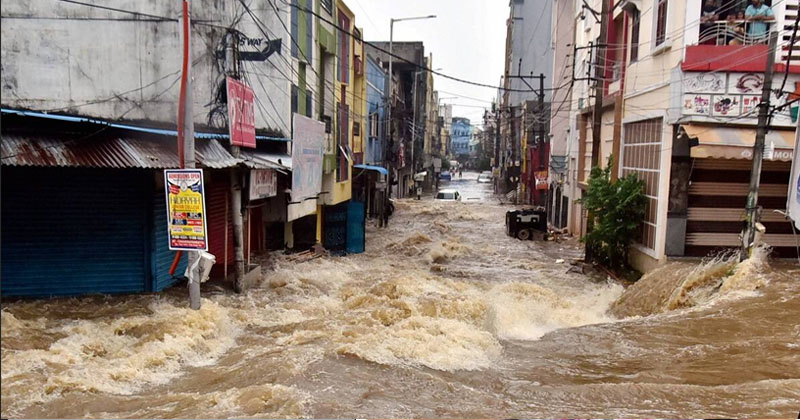 KTR and other ministers visited various areas in Hyderabad to take stock of the situation and they were trolled mercilessly by the angry people who came down the roads. People shouted " KTR down down", 'KCR down down'. KTR seeing the angry people made a silent retreat.
In the meantime angry reactions are coming from people as to where KCR disappeared all these days. Reports are coming that CM KCR is a silent killer of Hyderabad floods. A senior official revealed how CM KCR silently but deftly acted so that the Hyderabad flood situation didn't go out of hand with grid failure and other emergency situations.
People witnessed power outage in most parts of Hyderabad city due to heavy rains. The reason for this is said to be the advice given by the CM KCR. CM KCR cited the situation of Mumbai City floods and how With heavy rains and flood waters resulted in the grid failure which took many days to solve.
Transco Genco CMD Prabhakar Rao said that the power supply in many places in Hyderabad was cut off on Tuesday night as part of precautionary measures on the directions of CM KCR do that situation do not go out of control. He said KCR alerted them to ensure that Hyderabad doesn't face Mumbai like situation with power shut down due to grid failure.
Due to the heavy rains on Tuesday, the demand for electricity fell down to 2660 MW and tense situation arose as to what will happen to the grid? However, with the alert of the CM KCR, the power officials took care not to fail the grid.
The real question is whether KCR really alerted or is it an effort to boost the sagging image of the KCR amidst the pathetic situation due to Hyderabad floods.