Bollywood's Badshah Shah Rukh Khan, the Badshah of Bollywood, celebrated his 55th birthday on 2 November in Dubai where his team Kolkata Knight Riders is participating in IPL. The occasion became all the more special when Dubai's iconic skyscraper Burj Khalifa lit up with his name.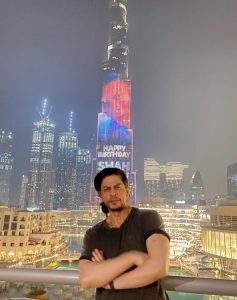 The actor has been a brand ambassador for the city of Dubai since 2016.
The actor posted a picture posing in front of the world's tallest building (Burj Khalifa) that was lit and flashed, "Happy Birthday Shah Rukh Khan." He wrote he loved the gesture and his kids were "mighty impressed".