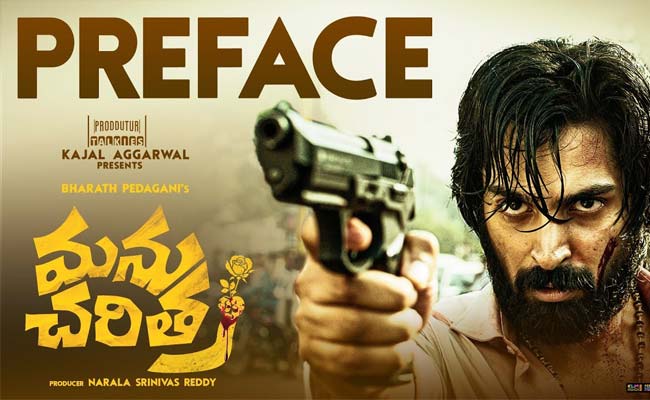 Kajal Agarwal is presenting a film interestingly titled Manu Charitra. The film stars Siva Kandukuri of Chusi Chundangane fame. Megha Akash, Priya Vadlamani, Pragati Shrivastav are the heroines in the film directed by debutant Bharat Pedagani.
The makers today released the 'Preface' teaser and it generated interest with various elements. The teaser comes with the dialogue ' vadu padutunna baadha anta inta kadu. vaadi edupu devudiki vinipinche anta, manushulaku artham kananta'. Manu Charitra is set in two different timelines and Shiva Kandukuri showed variations.Megha Akash, Priya Vadlamani, Pragati Shrivastav made their presence felt in this intense and powerful emotional romantic entertainer.  Gopi Sunder's background music made an impact.
Suhas, Dolly Dhanunjay, Srikant Iyyengar, Madhunandan, Raghu are playing important roles. N. Sreenivasa Reddy, P.Ronnson Joseph is producing the film on Apple Tree Entertainments banner. The makers revealed that soon they will announce the film's release date.