Rating: 2.5/5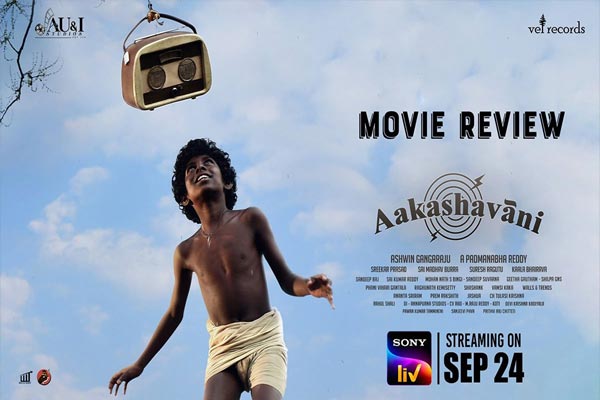 Cast: Samuthirakhani, Vijay Varma, Teja Kakamanu, Prashant, and others
Director: Ashwin Gangaraju
Music: Kaala Bhairava
Cinematography: Suresh Ragutu
Editing: Sreekar Prasad
Producers: Padmanabha Reddy
Banner:AU & I Studios banner
OTT: Sony Liv
Release: September 24
Ashwin Gangaraju's Aakashavani generated interest among movie lovers with its posters and interesting teasers and trailers. The film skipped its theatrical release and is heading towards OTT streaming on September 24 on Sony LIV. Let us find out what Aakashavani offers to all.
In a remote village, tribals believe that they owe everything to Dora (Vinay Varma). Any of the tribals who question Dora disappear and they believe that they faced the wrath of God and God has punished them. Sambadu (Teja Kakumanu) loses his near and dear just like other tribals and he is left only with his son Giddadu (Prashant). In the midst of all this, they find a new God and in the process they start questioning Dora.
To find out who is their new God and why did they question Dora, how Chandram Master (Samuthirakhani) and Akashavani (a radio set) are related to it, watch Aakashavani on screen.
Ashwin Gangaraju came touched upon a small point in an interesting manner and highlighted how innocent tribals are exploited. The first half ends on an interesting note at a good pace. The second half drags a bit and picks up pace during the pre-climax and climax. The story and screenplay are interesting and the direction is good. Samuthirakhani did well. Vijay Varma showed his power as a villain. Teja Kakamanu performed well. All the cast did exceptionally well. Kala Bhairava's BGM is excellent and the music is good. Editing could have been better. Suresh Ragutu's cinematography elevated the scenes.